Our Los Angeles Team Members
Find your professional pooper scooper service tech here. For multiple service days, you may have more than one service tech proving you with excellent dog poop pick up service.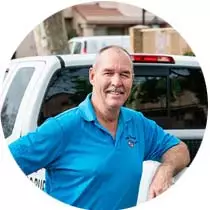 Timothy Stone
Owner
Hi! I'm Tim and I started Scoop Masters Dog Poop Pick Up Service in 1988 in the Los Angeles area. I married my wife, Maria, a few years later, and together we have been building this business to help dog owners take care of the one chore that no one likes to doo— picking up dog poop! We've had several dogs over the years and we currently have a young Chihuahua mix, named Sparky, that keeps us on our toes.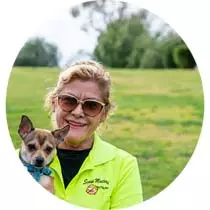 Maria S.
Owner
Hi! I'm Maria and I started with Scoop Masters Dog Poop Pick Up Service in 1998 in the Los Angeles area. I married my husband, Timothy, in 1997, and have been working together to expand and grow this business so we could raise our three children. Now, they're grown and we are raising our young CED Chihuahua mix, named Sparky. CED=Chief Executive Dog!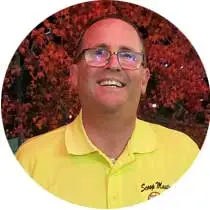 Marc L.
Senior Service Tech
At your service since June 2018.
Marc has been in the pet waste industry since 2008 scooping for our competitor, Pet Butlers. He takes care of mostly the South side of the San Fernando Valley stretching from Sherman Oaks to Calabasas. He's very dog friendly and has been known to play with the pups while he's suppose to be working. All his clients love him and the care he takes with their pets.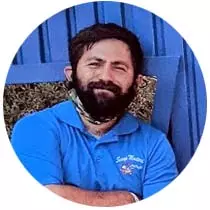 Jose R.
Service Tech
At your service since April, 2021.
Jose has been around dogs for several years before he came to work with Scoop Masters. He works long hours and hopes to run the opperations in the Ventura County area from Santa Paula to Oxnard. He gets along with most dogs, but had some earlier disputes with a Rottweiler long before he became a part of our team, and therefore has some apprehension with them.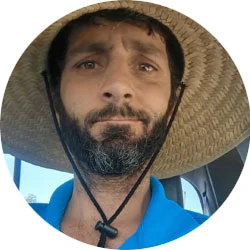 Nicholas P.
Service Tech
At you service since August 2022.
Nicholas is a former sailor with the US Navy. Thank him for his service when you see him. He really likes dogs, but unfortunately has an alergic reaction to everything cats. Even though we are a dog waste removal company, we do clean up after a few cats here and there.
Since 1988 Scoop Masters Dog Poop Pick-Up Service has been helping dog owners take care of their dogs by doing the one chore that no one likes to do… Picking Up Dog Poop! Our service includes walking your yard as often as you want to find and pick up your dog's waste and haul it away. We also hose off and disinfect your dog run with a kennel disinfectant and spray on a natural deodorizer to cut down on the smell. (Small additional fee may be required)
San Fernando Valley service available in Bel Aire-North, Beverly Glen-North, Beverly Hills-North, Calabasas, Canoga Park, Chatsworth, Encino, Granada Hills, Hidden Hills, Lake Balboa, Mission Hills, Northridge, Panorama City, Porter Ranch, Reseda, Sherman Oaks, Sylmar, Tarzana, Van Nuys, Warner Center, West Hills, Winnetka, and Woodland Hills. Also in the Santa Clarita Valley, Canyon Country, Castaic, Newhall, Saugus, Stevenson Ranch and Valencia. We also have limited service in Malibu, Palisades, Bel Aire, Beverly Hills, Agoura Hills. Ventura County: Camarillo, Fillmore, Moorpark, Santa Paula, Simi Valley.
Scoop Masters has been family owned and operated since 1988. We pride ourselves on customer service as well as providing a safe and healthy environment for people and pets alike. We are also licensed and Insured. Compare our service to Poop911, Doody Calls & Pet Butler franchises!*
We also provide pooper scooper service to the following zip codes:
90049, 90077, 90210, 91302, 91303, 91304, 91306, 91307, 91311, 91316, 91321, 91324, 91325, 91326, 91335, 91342, 91343, 91344, 91345, 91350, 91351, 91354, 91355, 91356, 91364, 91367, 91381, 91384, 91387, 91401, 91403, 91405, 91406, 91411, 91423, 91436, 93010, 93012, 93015, 93021, 93040, 93060, 93063, 93064, 93065, 93066.