Doo We Provide Dog poop Pick Up Service Your Area?
Valencia
Enter your zip code below to sign up.
Five Star Service - *$10.00 per visit! 
What Sets Us Apart From Other Dog Poop Pick Up Service Companies?
Family owned and Operated for 35 years!
Use the same service as Celeberties: Pink, Mayweather, Wayne Brady,Tim Tebow and more... 
We service your yard the same day every week. Therefore, no guessing what day(s) your yard will be cleaned

We'll send you a text message when we're on our way and when we're done removing the pet waste, if you want;

You'll receive a picture of your closed gate immediately after each service, via e-mail, to give you peace of mind;

We haul the pet waste away, so you don't have to deal with it;

All of our service techs are uniformed and no pooper scooper service is contracted out;

We offer pet waste service Monday thru Saturday and as frequently as bi-weekly and up to 6 times a week.
What Our Clients Say About Scoop Masters in Valencia
Scoop Masters Dog Poop Pick Up Service Rates in Valencia
These are the base rates and may be adjusted according to size of property, access, terrain and other factors. These include rocks, bark, weeds, dirt and unkept yards. Dogs with digestive issues may incur an additional charge. (Diarrhea, loose stool) Below the table of our base rates are our rates for other services we provide in Valencia in addition to your basic service. If you need more days, have more dogs, call us for custom rates. 800 787-7667 Ext. 1.
New Customers – Sign up for regular weekly pooper scooper service in Valencia and get 10% off your first 6 months. All you have to do is ask.
Military & Senior Discount – Get 10% off your pooper scooper services when you sign up for regular weekly pet waste removal. Just let us know.
| Service Frequency | 1 Dog | 2 Dogs | 3 Dogs | 4 Dogs |
| --- | --- | --- | --- | --- |
| Once a Week | $15 per visit | $17 per visit | $19 per visit | $21 per visit |
| Multiple Visits per Week | $14 per visit | $16 per visit | $18 per visit | $20 per visit |
| BiWeekly | $21 per visit | $23 per visit | $25 per visit | $27 per visit |
Additional Dog Poop Pick Up Services in Valencia
*A one time, first visit surcharge may apply if property has not been cleaned recently!
Powerful add ons: Deluxe and VIP Packages for reasonable prices!
Deluxe - Deodorizer - Apply smell good deodorizer. $4.99 / Visit
VIP - Wash selected areas, Apply Disinfectant Application, and Smell Good Deodorizer. $9.99 / Visit
One time clean up fees: Less than 4 months since last clean up - 1/2 hour = $45.00 (minimum) then charged $15 for every 15 minutes thereafter.
Temporary (Vacation) Cleaning: Call for Details
Pet Waste Station Maintenance: Call for Details
Our Services in the Valencia Area
Residential/Commercial

Homeowners Associations – Pet Waste Removal, Pet Waste Station sales, maintenance & installations.

Odor Control available for dog runs, artificial grass and more!

Zeolite natural odor control for artificial turf.

Apartments / Condominiums

Parks / Bike Paths

Special events

One time cleaning, vacation cleaning and more

Dog Poop Pick Up and Removal
We come to your home in Valencia on a regular basis and pick up the dog poop! Whether you want once a week pooper scooper service, 5 times a week pooper scooper service, or anything in-between, we are here to serve you and your pet waste needs.

Pet Waste Station Maintenance
Want to free up your maintenance crew for more urgent matters? We will service all of your pet waste stations by emptying the trash bags, replacing the dog poop bags and keeping your dog poop bag dispensers clean. And, we'll even supply the bags!

Odor Control
There's nothing worse than that fresh scent of…DOG POOP! That's why we provide a variety of odor control options to help get rid of the dog poop and pee smells. We can keep your artificial turf or your dog run smelling fresh clean. Ask about our Zeolite applications for long term odor control.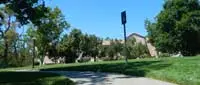 Homeowner's Associations
That's right, we can service your HOA's common areas in Valencia and keep the area dog poop free. We work with several management companies and many compliance companies so you can be sure you're hiring true, professional pet waste technicians.
Find your professional pooper scooper service tech here. For multiple service days, you may have more than one service tech proving you with excellent dog poop pick up service.
Our Los Angeles Service Areas 
Since 1988 Scoop Masters Dog Poop Pick-Up Service has been helping dog owners take care of their dogs by doing the one chore that no one likes to do… Picking Up Dog Poop! Our service includes walking your yard as often as you want to find and pick up your dog's waste and haul it away. We also hose off and disinfect your dog run with a kennel disinfectant and spray on a natural deodorizer to cut down on the smell. (Small additional fee may be required)
Here are some of our service areas
San Fernando Valley service available in Bel Aire-North, Beverly Glen-North, Beverly Hills-North, Calabasas, Canoga Park, Chatsworth, Encino, Granada Hills, Hidden Hills, Lake Balboa, Mission Hills, Northridge, Panorama City, Porter Ranch, Reseda, Sherman Oaks, Sylmar, Tarzana, Van Nuys, Warner Center, West Hills, Winnetka, and Woodland Hills. Also in the Santa Clarita Valley, Canyon Country, Castaic, Newhall, Saugus, Stevenson Ranch and Valencia. We also have limited service in Malibu, Palisades, Bel Aire, Beverly Hills, Agoura Hills. Ventura County: Camarillo, Fillmore, Moorpark, Santa Paula, Simi Valley.
Scoop Masters has been family owned and operated since 1988. We pride ourselves on customer service as well as providing a safe and healthy environment for people and pets alike. We are also licensed and Insured. Compare our service to Poop911, Doody Calls & Pet Butler franchises!*